AWeber vs GetResponse – If You are a Beginners in email marketing you are most likely to choose AWeber for its free plan, But GetResponse also offers a free trial for 30 days without restriction, well I think this is a good offer as you can use all the features for free for a whole month.
Both AWeber and GetResponse will truly be at your service because they have all the necessary tools that make email marketing easy as they do the job very well.
But Experienced marketers with more knowledge of email marketing will tell you that, the more additional features and more capabilities the better.
This means if you know your brand or business and its requirement, It's better to look for software that will bring you more results and make all the difference.
In this article, I will tell you more about AWeber and GetResponse and our experience with both software. If you are looking for software with it all GetResponse wins.
It's easiest to use and comes with more features and a good automation system as well as a webinar hosting capability. also, they recently added an SMS feature, and they boastfully call themselves the all-in-one marketing platform.
What Are AWeber And GetResponse
Aweber is one of the oldest in the market, it was Founded in 1998 to help small businesses with their email marketing campaigns and newsletters. in recent years, there has been a significant update to its marketing features.
GetResponse is not new to the market either, It is an all-in-one email marketing tool with a wide variety of features including a landing page editor, marketing automation, and the recently added webinars just to name a few. Read our in-depth GetResponse review here.
Main Features of AWeber And GetResponse
GetResponse features include Email marketing Professional templates, easy design tools, and first-class deliverability. Website Builder Promote your business online with an AI-driven, code-free website builder. Webinars Easy set-up, powerful results with a complete marketing webinar software. Marketing automation Bring your customer journey to life with automation flows that grow with you. and the recently added SMS Feature.
AWeber functions consist of easy-to-use e-mail marketing and automation tools, Creating and sending a couple of automatic e-mail campaigns, Sending one-time e-mail broadcasts to interact with audiences and promote extra products/services. and Segment and control subscribers' usage of tags. Use certainly considered one among our cutting-edge mobile-pleasant HTML e-mail templates and over 6,000 free-to-use stock images.
Email Editors – AWeber vs GetResponse
Creating a campaign on both platforms is easy to do, You can easily segment your contact on your list based on specific types of criteria, the only difference is that, with AWeber, You can't send email to multiple segments at the same time. this means you will have to set up different segments for each variant.
Below is an illustration of GetResponse's newsletter builder.
With GetResponse, that is not the case, you can select more segments at a go, and no need to create multiple or repeat the process.
The only problem I can see with the GetResponse editor is that it can be a bit difficult to use for beginners so I will choose Aweber's editor over GetResponse's.
Both AWeber and GetResponse have the common drag and drop editors which makes creating an email campaign very easy. as you have plenty of options to make your emails look nice. This makes it have to choose a winner here.
Below is an illustration of GetResponse's Website Builder
Email Templates
Both software is built to help you with your email marketing campaigns, with their capabilities and features, but with some features like Email Templates, GetResponse does it better. let me explain.
AWeber has a wide option of email templates to choose from, though some of their templates look very old, if you spend time looking, you might find one for your needs.
But most people won't want to spend much time just picking a template. Below is an example of AWeber templates.
GetResponse has a wide variety of templates for every category you can think of with a nice design, and the editor was recently updated which makes it easy to make your newsletters look as cool as you want.
Even with the free plan, you can use them. Below is an example of GetResponse's templates.
Marketing Automation – Aweber Vs GetResponse
Marketing automation (Autoresponders) is set to send newsletters to your subscribers at a specific time or occasion – for instance, it can be set up so that:
As soon as somebody signs up to your list, they receive a welcome message from you or your business a day after or a week later, and they receive an incentive or discount code for a product that will help them.
Two weeks later they receive a message about a video you posted on Youtube and that will interest them And so on.
This means your email marketing gets automated – this takes off more work of your hands, and if it's set up correctly subscribers will receive messages from your business when you want them to without you having to do the work over and over again ( You only do the most important ones which are tracking and testing ).
Below is an example of different types GetResponse's email marketing automation workflow. You can choose one of the done-for-you email marketing automation workflow – Or You can create one from scratch.
Both GetResponse and Aweber offer marketing automation with this feature you can create workflows based on subscribers' actions such as opens and clicks, You can track email based on the trigger after sending and set what happens if subscriber clicks or didn't click or abandons a cart.
For example, You can set the autoresponder to send:
Newsletter action — for example, when someone subscribes they will get a welcome message, and when they open it and click on a link, they will be automatically added to a particular cycle ( Autoresponder).
Purchases — if subscribers buy something from your website, You can set trigger messages to them, like a thank you message or offer a discount for a similar product that might help them, You can do this with both GetResponse and Aweber.
Page visits – You can send a message based on a page visit like — if a subscriber visited a checkout page and didn't complete that purchase.
Date and time — You can send birthday wishes or send messages based on time or date or occasion.
In short, both have strong autoresponder functionality. Below is an example of the GetResponse email marketing automation workflow.
AWeber is better when it comes to Split Testing than GetRespone, GetRespone's Split Testing feature is well designed and beginner-friendly, But AWeber has more testing options.
For instance, AWeber allows you to test email variants with more elements and at the same time, But with GetResponse you are limited to testing one at a time, either the body, the header or the subject.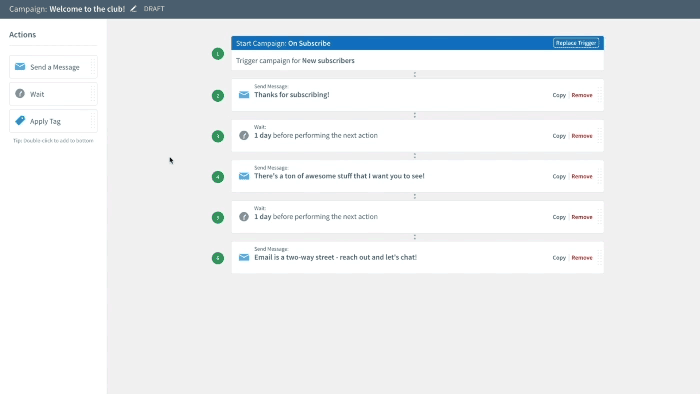 Aweber vs GetResponse Usability – Ease-Of Use
AWeber looks easy, but GetResponse Is Easier
Both are fairly easy to use and you can build very nice actions based on triggers, but GetResponse is on top of our list.
As I already mentioned above building emails with both platforms is easy as you can edit the already done for you templates to suit your needs. Also If You want to import contacts into either two platforms, Both AWeber and GetResponse allow popular file types, and it's easy to import from most third-party services.
Building sign-up form is easy on both platforms, You can build the common embedded sign-up forms with ease. But GetResponse offers a much cleaner interface and other options like the exit pop-up form and interactive forms.
Aweber vs GetResponse – Dashboards
Both Aweber and GetResponse are doing the same thing – with their very simple type of design, with current fonts on the menus and icons, in preference to text-only. below is an example of the Aweber dashboard menu.
Maybe the customers possibly admire that type of approach.
I choose the GetResponse interface due to the fact, that not a lot of scroll or click is required to get things done. below is an example of the GetResponse dashboard menu.
Aweber vs GetResponse Landing Page Templates
With Landing pages, GetResponse does well than Aweber.
Aweber templates
Aweber a good number of landing pages that comes with Facebook Pixel and Google Analytics installed to track the performance of your marketing campaigns. Below is an example of Aweber's templates.
It Consists of the popular drag and drops editor and it's very straightforward to use with about 6000 plus Stock photos
And the good thing is that it is also available in the free plan, the Aweber's landing page editor is good but looks a bit outdated, it truly needs an improvement.
GetResponse Templates
GetResponse has a wide variety of templates for every category you can think of with a nice design, and the editor was recently updated which makes it easy to make your newsletters look as cool as you want.
Even with the free plan, you can use them. Below is an example of GetResponse's templates.
Aweber vs GetResponse – Pricing
AWeber Pricing
The AWeber Pro plan unlocks all the platform's primary features and the pricing shape scales based on the number of subscribers. For example, it costs $19.ninety-nine to send an unlimited number of emails to as many as 500 subscribers, all the way to $149 consistent with a month for 25,000 subscribers.
If your listing is larger than that, you'll contact AWeber support. You also can keep some bucks by buying an annual plan.
GetResponse Pricing
You can start GetResponse for free for a Month and if you want to upgrade the pricing starts from $12.3 per month for a maximum of 1000 subscribers but, if you decide to pay for a year, you will get an 18% discount and for two years you get 30%. The higher the number of subscribers or features the higher the price.
GetResponse Plans and Pricing
Read our GetResponse review here
Aweber vs GetResponse – Customer support
Aweber's customer service is one of the amazing capabilities of this product. Winner of the Stevie Awards for consumer service, this e-mail advertising, and marketing device offers a 24/7 stay chat and e-mail guide.
Phone support is available from 8 am-8 pm ET Monday to Friday. Moreover, Aweber has an in-depth knowledge base and FAQ sections with plenty of video tutorials.
GetResponse's support used to include phone, live chat, and email support but recently, they stopped offering phone support, but only to the higher plan ( the Max Plan ).
The email support provided by GetResponse is available in French, English, Spanish German, Polish, Italian, Portuguese, and Russian; but the live chat is in English only.
Below is a snapshot of languages offered by GetResponse's email Support.
Personal experience is with GetResponse's support than Mailchimp's, and what I can say is that the live chat support is very good — and even better than the email support.
I Could Have Talked About This.
I desired to make this a brief article, I should have talked about, Editing e-mail designs, Web fonts, Mobile-friendly, Split testing, Creating data segmentation, Reporting or Analytics, Facebook ads, landing page creation, Two-element authentication, Webinars, Conversion funnels, Push notifications and Building of websites. But to make this article as shorter as possible I will provide you with my very last verdict here.
Final verdict
My Final Verdict On Aweber vs GetResponse Battle
As you may likely already tell, the AWeber vs GetResponse battle was hard-fought. Both email marketing platforms have their robust and vulnerable points.
Having stated that, it looks as if GetResponse offers only a little bit extra than AWeber.
Some matters that immediately come to thoughts are its current template selection, modern automation system, and barely purifier interface.
Don't get me wrong. AWeber is notable for entrepreneurs who're simply getting began out with automatic electronic mail advertising and can't – or don't want – to make investments too much.
But, overall, GetResponse's plans will provide you with an extra bang for your buck. AWeber does win the analytics struggle, so it can be the higher desire in case you want to target statistical analyses. It additionally excels at complete A/B testing.
I'll and with pros and cons as with all products I review however, It will be a good idea if you test them fully yourself before you pick a paid plan: Get AWeber for free here or try GetResponse for free here.
Pros and Cons
The pros and cons of AWeber vs GetResponse